Exchange StealthEX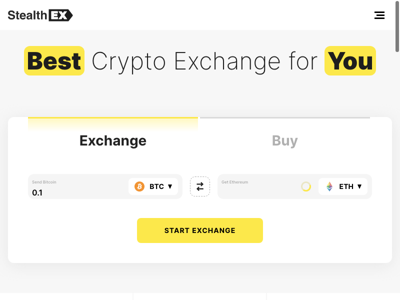 Age:
4 year, 8 month, 22 days
Siril
- 12/27/2022 - 104.248.250.* -
bestchange
Awsome! I swapped quite big sum just in few mins Love it! Definitely highly recommend
Oliver
- 12/28/2022 - 176.59.82.* -
bestchange
I recently converted my XMR to ETH and my transaction was completed very quickly, in just 30-40 seconds. I really like its rates and transaction times
Obadoba
- 12/26/2022 - 195.181.164.* -
bestchange
Didn't take too long to swap and also not required to register here
Dale
- 12/26/2022 - 85.101.72.* -
bestchange
Misleading information on price, before you get to the real price that they offer you need to go through filling out all the forms, and only then on the deposit page you see the price. BE CAREFULL
Vladimir
- 12/23/2022 - 195.211.193.* -
bestchange
Fixed exchange rate - that's a LIE!!! "With the floating exchange rate - the payout amount may change due to market conditions. With the fixed exchange rate - market conditions affect the payout amount".
Deech
- 12/23/2022 - 77.100.91.* -
bestchange
Providing misleading information on price, giving them advantage when looking for the best exchange. Be careful and always check actual price rather then "floating" price.
Mark
- 12/14/2022 - 78.159.101.* -
bestchange
These are [Obscene and abusive language was removed by the monitoring's administration]!!! Do not use this service!!! They will take your money and will not give it back to you as well as to me!!! They will come up with a million reasons not to refund your money!!! I made 2 AVAX to SOl exchanges. The first one was successful and the second one they took my money from me and are not going to return it to me!!! The sender was not me, and from the first exchange I still had their AVAX address and told the person to send the second payment to the same address, having previously created a transaction for the exchange, but apparently the person sentfunds before I created the transaction and so it didn't go through. I contacted the support service and they told me that they can return the money to the address from which they came, but this option does not suit me because, as I said earlier, I was not the sender and if they send the money back to that address, then I will not I will receive and therefore I have given a different AVAX return address. They said they would send me the money after I provide them with a screenshot of the payment. I contacted the person and provided them with a screenshotpayment after which they said that they would return the funds to me in 6-8 hours, but after 10 hours they told me that they could not do this because they had little evidence, although earlier they said that this was all they needed for a refund !!! They said that I needed to provide them with additional information to confirm the payment, such as the ID of the last exchange or the address where I received my SOL in the last transaction. I provided them with this information and they said that my funds would soon arrive at my address, but after a while the funds still did not come to me and they said that they would not send me my funds because they had some suspicions of something although I provided them with everything they needed !!! Every time I give them the information they ask for, they demand some other crazy information!!! They said that they need the contact of the person who sent me money so that they contact him and clarify whether he really sent me money!!! This is nonsense and none of their business! They demand that I give confidential information of a stranger!!
Hisham
- 12/22/2022 - 41.44.234.* -
bestchange
I told him to refund me my 21 $ xmr when i found eth only 3 $ he request me hash of transcation and my xmr but he sent the eth and didn't refund me be aware guys of this scam
Maurice Ramos
- 11/20/2022 - 185.230.124.* -
bestchange
I am beyond impressed with the stealthex team! Had a transaction that got stuck and I contacted support. Within a few minutes, I had a reply that they are on it. They quickly fixed the problem and pushed my swap through. Their response time is astounding. Thanks for your service!
Fred
- 12/22/2022 - 107.181.177.* -
bestchange
Good instant swap service. Made a couple swaps already, reliable.