Exchange C1kWorld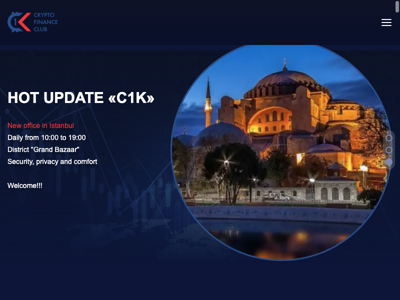 Age:
5 year, 4 month, 19 days
Mykola
- 3/22/2023 - 46.211.252.* -
bestchange
Everything is great. Very fast chat response. Very fast exchange with a good exchange rate.
Javed
- 3/15/2023 - 111.88.40.* -
bestchange
Its great excahnge and very fast chat response with fast delivery confirmation. i just changed USDT to PM with super rate
Waqar Ahmed
- 1/25/2023 - 111.119.177.* -
bestchange
Amount of 6800.44$ from usdt to pm Exchange was completed instantly. Recommended. Giving 5 star.
Vladislav Milkin
- 12/8/2021 - 217.150.73.* -
bestchange
I absolutely recommend these guys. I am going to use this service for all my further exchanges.
Alexander
- 11/22/2021 - 95.174.66.* -
bestchange
I have exchanged +10k$ from crypto to fiat, amazing exchange, fast response, low fees, everything that you will need
Somebody
- 9/7/2021 - 95.67.122.* -
bestchange
Good exchanger, great rates! Closed many deals here
Junwu
- 9/1/2021 - 106.56.46.* -
bestchange
Recently, I made some exchanges with them. The single amount is $1000-2000. In addition to the poor use experience of the website, the others are going well. I hope to improve the website's form filling system and historical records
Tjunwu
- 8/6/2021 - 106.56.126.* -
bestchange
I wish you can lower the minimum of exchange to 50, because thers is too little reviews for reference, we need try from little amount. if you can adopt my suggestion,thank you very much!
Price In Bestexchange And Exchanger
- 7/28/2021 - 84.71.0.* -
bestchange
Hi, Why the price in this website and the company's website are different? for example, usd cash to usdt in bestchange.com shows 1.025 for your company but in your wesite shows up just 1 which is 2.5% lower
Vinay S
- 7/28/2021 - 49.206.10.* -
bestchange
Really fast and best exchange service that I came across. Willing to do lot more exchanges in the near future.