Exchange LeoExchanger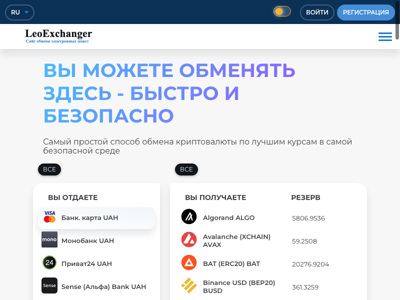 Age:
6 year, 1 month, 10 days
Maxim
- 4/27/2023 - 94.198.40.* -
bestchange
Used this exchange multiple times however after 3 or 4 withdrawals they blocked my withdrawal and asked me to provide almost every detail about myself including my passport, picture of me holding my ID, address and a lot more. I have provided some details and PROOF of where the money came from to show them it weren't from scam or anything like that however after that they still refused to pay me.
Vitalii
- 4/23/2023 - 46.211.78.* -
bestchange
Just today I made a small amount transaction, all went very quickly and the process was very clear . My best wishes to company Leoexchanger. Stay well guys and thank you for your service.
Dmytro
- 4/23/2023 - 178.133.157.* -
bestchange
Trash support, send money to Paypal with hold on 21 day. Don't recommend this exchange
Shemsu-Heru
- 4/23/2023 - 78.120.136.* -
bestchange
New transaction today. Reliable site, I recommend. thanks LeoTeam
Proboy
- 4/24/2023 - 27.34.104.* -
bestchange
Why I can't see the address for verify it's correct or not
Proboy
- 4/24/2023 - 27.34.104.* -
bestchange
Payap not received why ? Waiting from 3 hours https://leoexchanger.top/hst_mb8YR6rrFjRyPRjiNXIi4xzhcFlACe1nmpV/
Sergey
- 4/24/2023 - 46.96.177.* -
bestchange
Do not recommend! more than 3 hours no payment and no response from the chat and numbers
Remon Rafaat
- 4/24/2023 - 197.57.106.* -
bestchange
Very, very, very slowly, and in the end, the amount was refunded and returned to Payeer, and the amount was not transferred to Paypal! And my order was canceled without understanding the reason! And no one responds from support !!
Sergei
- 4/24/2023 - 188.163.73.* -
bestchange
Poor exchange and customer support service, no response for auto payout error for more than 2.5 hours!!!
Marcelo Rodrigues
- 4/24/2023 - 197.218.95.* -
bestchange
Please check my transaction It's been a day and I haven't received it yet. Order ID: 10126751