Exchange SimpleSwap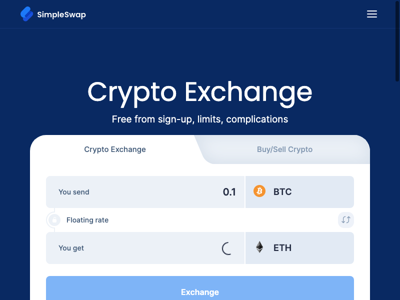 Age:
5 year, 1 month, 19 days
Country:
Marshall Islands
Junho
- 4/17/2023 - 211.186.131.* -
bestchange
Hello, thank you for your efforts. I sent BNB without a note and later realized my mistake. Luckily, they were able to get a refund!
Mia
- 4/17/2023 - 87.101.94.* -
bestchange
I have been using this service for a year now and I am very satisfied. Support service is prompt as always. Thank you SimpleSwap!
Katherine
- 4/13/2023 - 85.114.138.* -
bestchange
I'm really glad that i found this service. Always fast, simple, without problems. I'm accidentally send USDC to the wrong network and the support team immideatly help me. This service is definitely trustworthy.
Daniel
- 4/13/2023 - 90.188.178.* -
bestchange
Amazing exchanger I'm very happy, Thanks to their support, I learned new things and in general, they are so cute Special thanks to David and Miko, keep it going, guys
Marcos
- 4/9/2023 - 103.14.26.* -
bestchange
Trusted service! I didn't add a memo by sending my bnb, but David from support was able to fix my mistake. I received eth 15 minutes after contacting support. That's great!
Samandar
- 4/9/2023 - 92.63.204.* -
bestchange
Make exchanges through them recent 2 months. Almost no issues, simpleswap is my trusted service now. It is worth to recommend!
Alex Jones
- 3/31/2023 - 207.244.89.* -
bestchange
My experience with SimpleSwap is completely positive. I never got any serious issue with it. Always fast and with a good coin rate. There is no secret how to use the platform. And in case of any difficulty its possible to contact the support team. Just awesome!
KitH
- 3/31/2023 - 91.242.229.* -
bestchange
SimpleSwap is the best cryptocurrency exchange service. The main advantages are simplicity! I just need to enter the recipient's address and send the deposit. that's it! Then I can safely wait for the exchange to be completed. I recommend it for sure!
Rob
- 3/31/2023 - 5.62.58.* -
bestchange
The first swap with you took place in just a few minutes and my USDT appeared in my wallet. I regret that I didn't use you earlier. I'll get back to you for the next swaps.. I recommend it!
Victor
- 3/31/2023 - 94.206.198.* -
bestchange
Nice experience with the exchanger!