Exchange EasyBit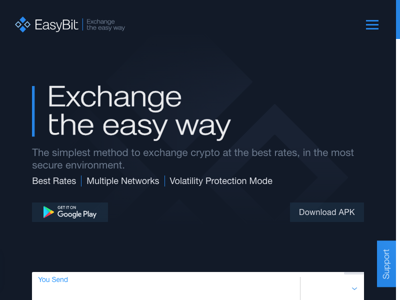 Age:
3 year, 8 month, 31 days
Eduardo
- 3/2/2023 - 143.244.52.* -
bestchange
Best exchanger!!! Cheapest fees and the fastest transactions they are faster than most crypto exchanges and markets even Customer service is helpful and fast as well!!! Thankssss
Rick
- 3/6/2023 - 37.120.221.* -
bestchange
The exchange speed is commendable, everything ran smoothly, the web design isn't a glitchy one. I'm really impressed with EasyBit exchange and recommend it for anyone
Nobody
- 2/25/2023 - 45.91.21.* -
bestchange
I started exchange as a guest, sent money to their address and then received a message that I must register to transef money. So I signed up but don't received money. Asked support, but there are no answer (2 hours passed).
Lucas
- 3/6/2023 - 156.146.60.* -
bestchange
My order was executed very fast. The exchanger has all the features to provide secure transactions. Without any doubt I will use this service in the future. I recommend this exchanger. Best exchange, very good support, fast and good servicee
Andwan
- 2/19/2023 - 46.246.106.* -
bestchange
Great exchanger. Funds are credited to the account within a minute. Thank you for the quality service.
Abbas
- 2/19/2023 - 152.89.162.* -
bestchange
In the main page and list of exchange rate for trone trx to btc easy bit stand on 2 or 3 stairs and minimum trone asked for exchange is 65 but 2 important point 1: the minimum trx need for exc on easy bit is 467 not 67 2: some exchanger that stand lower down of easy bit pay more than for exchange example easy bit for 100 tron e pay 0.0001 Other one that 5-6 stairs downer of easy bit for 100trone pay 0.00013 Btc(this numbers is not exactly that pay just for example say) if you want i can say the site
Liam
- 2/20/2023 - 188.213.34.* -
bestchange
Amazing exchanger with great rates and fast transactions !! Thank you guys !!
Akarpaap
- 2/20/2023 - 109.242.136.* -
bestchange
What a nice exchanger. Really fast exchanges and reliable. Totally suggested.
Andrew
- 2/21/2023 - 138.199.59.* -
bestchange
Amazing service with fast transactions and very good rates! I received even more that I was supposed to!Very excited to use EasyBit and I will use it again and again!!!
Cavin
- 2/21/2023 - 188.126.94.* -
bestchange
Really their service is great.All time they complete my order very short time. Highly recommended.