Exchange 001K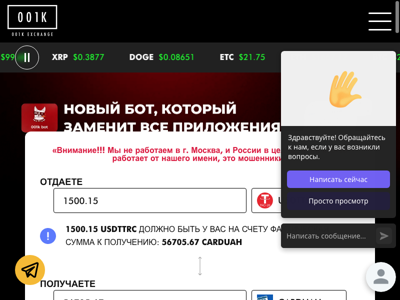 Age:
3 year, 9 month, 31 days
Max
- 3/3/2023 - 89.251.26.* -
bestchange
Fast payment, trust service. Thank you, I will use it again!
Viktor
- 3/3/2023 - 172.225.89.* -
bestchange
Made exchange USDT (75000) to cash in Los Angeles. Excellent service!!! Will use it again. Thanks!!!
Ivan
- 3/5/2023 - 80.64.88.* -
bestchange
Made order 1500usdt trc20 to VISAUAH Transferred money and sent them hash in 1min After 15 hours they said that already transferred money and can't provide any screenshot of invoice of transaction
Vlad
- 3/3/2023 - 193.0.218.* -
bestchange
[The following comment may have been left to discredit the exchanger's image and reputation] [Attention! Lack of any evidences confirming the accuracy of the information given down below] Claiming on the website that they have big balance in UAH cards. When I've deposited USDT in their advertised telegram bot and converted them into UAH, they said they can not longer send money to UAH cards and suggested to withdraw USDT back with loosing 8% + comission for transfer. I was super nice with Support. But every their message to me was very rude.