Exchange HiExchange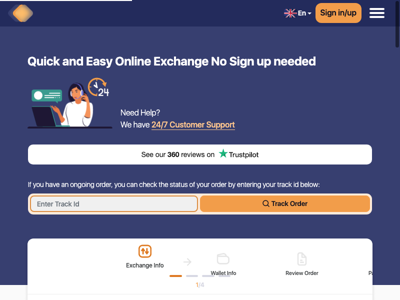 Age:
3 year, 3 month, 26 days
Malek Saeed
- 3/9/2023 - 178.130.103.* -
bestchange
Perfect service, very fast transaction and low fee
Evgeny
- 2/28/2023 - 178.45.128.* -
bestchange
Xch_dIdXmngshabN9tR Good service thanks
Rostislav
- 3/3/2023 - 67.149.105.* -
bestchange
[The following comment may have been left to discredit the exchanger's image and reputation] I exchanged USDT to BTC, sent them 4876 USDT, 10 minutes later I get a letter from their support team to the mail (To verify that the 4 876 USDT payment you just sent is yours, you need to send another payment to our wallet, please send 500 USDT and we will calculate it on your order when we received it, Our wallet for the transaction is : TLPp9puUKyRhTuiGHvY55FvY1hPsiYXeBk Please attach the screenshot of your payment in this email, let me know if you have any questions.) I went to the website and started writing to support in the online chat room. And indeed, it confirms that it is. They say they need to send them 500 USDT or 0.022 BTC to confirm it's me. I ask for a refund, they also reply that they can't make a refund because I didn't confirm myself. What nonsense, this is pure fraud! I offered that I will send them 1 USDT from my wallet for confirmation, but they ask 500 USDT. I am also ready to provide screenshots of all correspondence online chat bestchenge
Alex
- 2/28/2023 - 191.101.209.* -
bestchange
Did not get my money after 72 hours. Each day they promised to fulfill order asap. Looks like fraud. Please, do not use it. I did not expect, did not read comments of other users, just choose first exchanger in the list for paypal and got pain communicating with them. Not sure why bestchange.com registered them. Order number: z4q2 Tracking id: xch_xWWegVj8PYZg8jj
Trent
- 3/3/2023 - 185.130.226.* -
bestchange
[Obscene and abusive language was removed by the monitoring's administration] couldn't do transactions to my PayPal account and don't want to give my money back. Please avoid any business with this company. I don't even know why they approved on bestchange, to be honest. Bestchange.Com please take them down as soon as possible. [Obscene and abusive language was removed by the monitoring's administration]
User
- 2/23/2023 - 66.115.142.* -
bestchange
Great company, great service. The screenshot part of the payment instructions was a bit confusing, and my payment got suspended at first, but I simply reached out to their support via the built in chat system and they got back to me in minutes and helped me sort it out. The screenshot they want is a screenshot of the transaction with BTC value. This exchange has everything going for them (non-KYC, 24/7 support, fair fees, good flowing website) will be a regular customer.
Luka
- 3/3/2023 - 178.239.165.* -
bestchange
I had a negative experience with this company as they seemed to prioritize their principles over the customer's needs. Despite sending the money and providing the transaction hash, they requested additional screenshots and ultimately returned the money with a 1.5% cut because they said the transaction hash was insufficient. I would advise others to avoid this company as it appears to be a [Obscene and abusive language was removed by the monitoring's administration].
Elkhan
- 2/23/2023 - 81.17.83.* -
bestchange
Good exchanger. Though now, the funds added manually. I received my TRX.
Admin trendchecker.io
- 3/3/2023 - 5.62.56.* -
bestchange
They are professional and their service is really fast and nice. I like their service very much. Thank you
Fazil
- 2/17/2023 - 161.0.154.* -
bestchange
I don't normally review services but this particular service was abnormally quick and being my 1st time using them i reached out to their support to enquire about expected times and they were quite responsive AND the transaction was done very quickly. I can highly recommend them, which is rare in this field, keep it up folks!