Exchange IChangeOne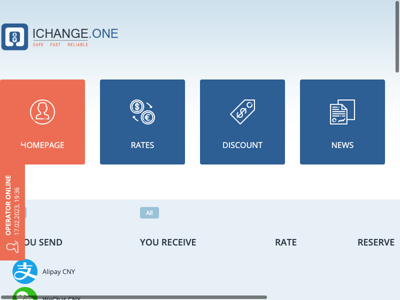 Age:
4 year, 0 month, 20 days
Motasem400
- 1/27/2023 - 188.247.72.* -
bestchange
Requisition ID 67809 I did not receive my money
Haytham Fawzy
- 1/29/2023 - 102.185.15.* -
bestchange
Fast and trusted , good rate
Musafir
- 1/29/2023 - 103.155.118.* -
bestchange
ORDER ID 66133 What's the problems ?? 6hr running still I'm not sure my funds support r no response really worsted service I'm upset
Jp
- 1/29/2023 - 208.78.41.* -
bestchange
First time use and was perfect. Thanks
John Samada
- 1/30/2023 - 185.213.154.* -
bestchange
Hi, Good Exchange got my Yuansto Wechat Payment Smooth and quick Highly Recommended Cheers
Abrahim
- 1/30/2023 - 185.244.153.* -
bestchange
I have a question, I try to contact you on the support of the site. For those who do not respond, I contact Telegram, but there is no response either.
Alexey
- 2/1/2023 - 46.159.60.* -
bestchange
Works well, transferred USDT to UnionPay CNY in 5 minutes! Excellent! Thank you.
Alexey
- 2/1/2023 - 46.159.60.* -
bestchange
Tried to transfer USDT to UnionPay CNY. After about 25 minutes of waiting got an error: Your order has a problem,please contact the support! Tried to contact support through chat on the site, but without success - they are offline. Tried the same through contact form, but didn't got any confirmation email or response. Finally, found and wrote to their telegram account and got an answer after 12 minutes of waiting - recipient name must be in Chinese. This moment wasn't mentioned in the form while I've created an order. So, all is good, transfer successfully completed! Thank you. But support works a bit slow and user interface might be unclear.
Dmitry
- 12/24/2022 - 185.3.33.* -
bestchange
Very fast transaction USDT to Alipay account. Best rate for this currency
Yasir Ahmed
- 11/10/2022 - 103.127.3.* -
bestchange
Really awesome exchange service.i personally choose ichange.one for exchange.thanks everyone.