Exchange WxMoney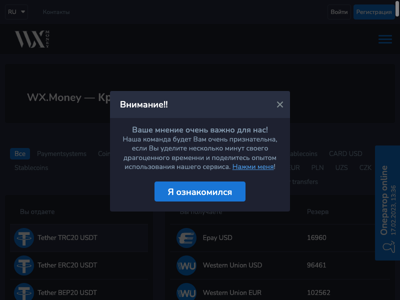 Age:
4 year, 3 month, 20 days
Ilya
- 3/25/2023 - 167.235.22.* -
bestchange
Didn't send money at all. Helpdesk couldn't decide sent my money or not. And after all - asked me to change my card details (but I have only one). So I don't recommend this service at all. Now I have no crypto and I have no money on my card. Looks like scam.
Muhammad Usman
- 3/25/2023 - 111.119.187.* -
bestchange
Very fast and trustworthy
Mikhail
- 3/23/2023 - 185.133.36.* -
bestchange
Exchanged USDT ERC20 for Revolut EUR. It's been 6 days since I payed and I haven't received any money on my Revolut account yet. First the support said the money would arrive in 3 working days. As of now 4 working days have passed (and 2 non working days) and I still haven't received anything. Today I contacted the support again. They asked for my bank statement as a proof that the money hadn't arrived yet. I sent it to them and they assured me that everything was under control and they were working to resolve my issue ASAP. Still they didn't say when the money would arrive. Overall I'm deeply disappointed in this exchanger. The processes are very opaque and as a customer I feel that I was not properly informed about the risks. Not to mention that this experience undermined my trust in BestChange. I would advise to use another exchanger unless you can afford to wait forever for your money to arrive. Thankfully, there are many good options available.
Bibasatat
- 1/18/2023 - 197.206.145.* -
bestchange
Great service, guaranteed and accessible to all I simply thank you
Wonderful exchange, amazing support
- 1/18/2023 - 41.202.207.* -
bestchange
Very fast USDT to PM transaction
Samvel Ogmrcyan
- 1/4/2023 - 80.92.206.* -
bestchange
I paid a while ago, they stole my funds for no reason claiming it's aml and asking for my private details. I'm Ukrainian and the Exchanger registration country is Ukraine. Ukraine is not on the list of the Financial Action Task Force (FATF), what this exchanger doing to me is absolutely illegal, I'm very concerned. I'm asking them to send my money back to the original wallet if they refuse to provide me with the service. If not - kindly proceed with my order.
Ivan
- 12/19/2022 - 37.19.108.* -
bestchange
Well. They provide excellent customer care. I had a problem with an exchange USDT TRC20 -> Payoneer. I left a message in the chat at ~23:00, and they solved a problem in less than 15 minutes. After that, I created an exchange order. I transferred USDT TRC20 and received money on Payoneer in 10 min. For now, this is the best exchange speed and customer service.
Fidenzio
- 12/21/2022 - 91.221.218.* -
bestchange
Binance XRP->monobank uah,super fast,great exchange rate
Xerge
- 4/16/2023 - 93.125.6.* -
bestchange
Transaction complete from crypto to Payoneer with a small fee. Mind the working hours!! Any transaction will stay in pending mode from 10 pm to 10 am UTC+2
Gustav
- 4/23/2023 - 185.103.110.* -
bestchange
See for yourself this conversations (i have screenshots, can provide). It's a scum in the end. Transaction type - btc to payeer, amount - usd 18 me: order id - 902550. 3 Bitcoin network confirmations - no status change. It's still in the state of "waiting for merchant confirmation". What's happening? wxmoney: good afternoon your application has been submitted for aml verification to confirm the origin of funds, you must provide answers to the following questions: - through which platform did the funds come to you? if possible, please provide screenshots of the sender's wallet/platform withdrawal history, as well as links to both transactions in the explorer; - for what service you received funds; - how much the transaction was, as well as the date and time of its execution; - through which contact person did you communicate with the sender of funds? if possible, please provide screenshots of the correspondence with the sender, where you can see the confirmation of sending funds. Also, you must provide the following materials: 1. Photo of one of the documents (passport, id-card or driver's license). 2. Selfie with this document and a sheet on which today's date and signature will be written by hand. Me: are you kidding me? your not an exhange or a bank to ask for a documents for bitcoin transactions. Im not providing your service any of my documents. I don't know who you are. First of all you must provide me with your documents. I request to cancel my transaction - and give me back my bitcoin. Wxmoney: sorry, we understand that this situation is not very convenient for you, but we can't return or make a payment on the application, because the funds are frozen on the exchange, and our exchange office adheres to the aml rules and checks, please provide the information that was requested above for a speedy unlock and payments for your application. Me: ok. Im glad that only $18 usd transferred. Im reporting you as a scum on every platform. Thank you! wxmoney: please do not worry, as this procedure is a normal practice, to which you also give your consent when submitting an application on our website me: i can tell you, that im aware - electronic consent on your website is noting in legal space. And also i can tell you - that im only losing $18 usd, and you will lose me as a client. Also u will receive super negative review with a screenshot of this conversation and will lose more clients. That's all. Im not providing some shade internet service with my personal data. Are you kidding me? it's only $18 transaction. It's not even a $1000 usd. I cant buy anything with it. It's just a scam to audit transaction of this amount. And also your denying my request of refud of my own money? you are crazy ) your not a bank or an centralized exchange with regulations in legal plane to make such actions. Your just a scum.