Exchange Itez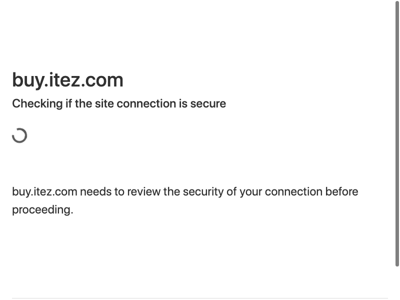 Age:
3 year, 8 month, 31 days
Bohdan
- 12/26/2022 - 178.133.188.* -
bestchange
I bought from this exchange USDT. At first there were problems with the verification of a bank card. I emailed them and they responded quickly and fixed the issue. The transaction went quickly, within a couple of minutes I received my USDT. Thank you!
Sergei
- 12/23/2022 - 46.71.56.* -
bestchange
Works fine for me. Armenian card was verified fast, more profitable to pay in USD than AMD. Took 15 min to get BTC on my wallet.
Olha
- 9/3/2022 - 109.105.242.* -
bestchange
Everything is quite comfortable. The calculation is fast. There was a problem of card verification, but if you immediately write to telegram, and not by mail, everything will be quickly resolved, excellent support service. Thank you!
Nn
- 7/9/2022 - 31.0.67.* -
bestchange
It says, "your card can't be verified". Why should I pass through all verification process and waste my time if the bank card could not be verified? that is the question.
Osolomija
- 7/9/2022 - 37.172.23.* -
bestchange
There is a lot of fraud in Suððort Telegram Chat of itez - highly recommend avoid this service. I've lost my money because scammers are waiting in their chat for users to "helð". Be careful!
Vera
- 7/13/2022 - 146.70.21.* -
bestchange
Why does the service not support US? Why did tech support text that I can't pass verification?
Azeez
- 6/4/2022 - 102.89.34.* -
bestchange
Is this site save to transact with? Because your status here on bestchange is "not active" come clarify this.
Anton
- 6/5/2022 - 46.138.128.* -
bestchange
First verification. fast verification of card anf documents(around 5-7 min). I have got money in 6 min after paying. good course. Thank you!
Äåíèñ
- 4/26/2022 - 37.214.12.* -
bestchange
I replenished from a Belarusian card (euro), so there is also a bank commission for the conversion. Sent 200 euros, EUR / BYN rate was 2.9317 - received 219.51 USDT the rate is 2.6711 directly from the card in BYN I think it would be about 2.65. not P2P, of course, but also not robbed. The cash rate is now 2.60-2.61. + 3% approximately to the cash rate. It can't be more profitable from the card :)
Kati
- 4/26/2022 - 83.5.244.* -
bestchange
I bought bitcoin from a Polish card, everything came quickly. There was a problem with verification, I turned to support for help and they quickly helped me. Thanks!