Exchange 24Zone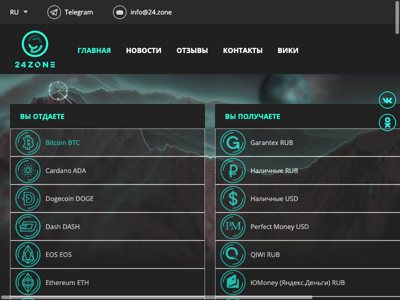 Age:
4 year, 7 month, 25 days
Ramil
- 2/10/2023 - 191.156.232.* -
bestchange
DONT CHANGE, VERY SLOWWWWWWW For 2 hours can not get the money changing usdt to Alfabank. Never had such problems with others
r3 in US
- 1/13/2023 - 185.202.220.* -
bestchange
I had very fast and good service with 24Zone, BTC to card account transfer was within minutes after the BTC transfer cleared. Very happy with the service and customer support interaction. Will be using them in the future.
Atikron
- 7/23/2021 - 171.98.19.* -
bestchange
Who wants to use the service here? You immediately stop your thoughts. I think this place is not good. and the service sucks You must have 24 hours for them. to sit and wait for your money it works very slow The transfer has been confirmed from the source in less than 10 minutes. 6 Confirmed. But you have to sit and wait for your money 24 hours or more. It's very long to wait for money. And I think there are other sites. The service is much better than here. Please use another service. Trust me, be warned with good hope. I've met myself twice already. long wait for money
Beannnnn1777
- 7/25/2021 - 41.107.58.* -
bestchange
Hi Everyone I like the exchanger, Very good one, fast and easy ,I really suggest it to everyone! New exchanger that can provide High services,Thanks 24.zone for your services! I believe I found the best legit exchanger of 2020 5 STAR for the support team of 24.zone for immediate respond and guidance, the rates are amazing! Good luck everyone!
Iman
- 7/25/2021 - 178.173.153.* -
bestchange
Hello, You do not have online chat, I want to exchange Tether(Trc20) to Perfect Money, but I do not have your Tether(Trc20) wallet address?
Vad
- 4/5/2023 - 85.249.18.* -
bestchange
USDT to Cash-in Alfabank was very fast less then 1 hour! Thank you.