Exchange ExLine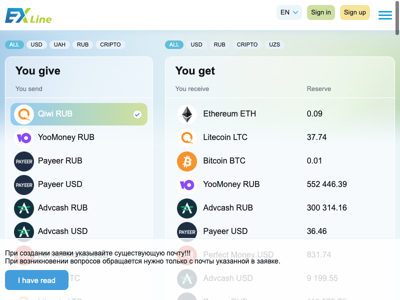 Age:
4 year, 1 month, 25 days
Ken
- 2/14/2023 - 115.146.215.* -
bestchange
I paid the application without knowing that the application was already deleted due to inactivity. I emailed to the support team that I have not yet received the BTC and in minutes they immediately sent the BTC to my wallet. Thank you very much exline for your immediate response!
Mr.Yats
- 1/29/2023 - 94.25.175.* -
bestchange
Fast, fair & good price! Everything was done in 7 minutes
Ken Dacatimbang
- 1/21/2023 - 131.226.82.* -
bestchange
Excellent service. Keep up your excellent service. Thank you.
Comrade77
- 1/20/2023 - 176.108.48.* -
bestchange
QIWI to BTC transfer was successful
Ekir
- 1/11/2023 - 178.121.40.* -
bestchange
All good! Qiwi to Bitcoin transfer was successful.
Tony
- 1/1/2023 - 194.33.45.* -
bestchange
[Information containing political undertones was removed by the monitoring's administration] 12/10 Exchanger is good.
Serge
- 12/20/2022 - 213.87.139.* -
bestchange
Perfectmoney to Qiwi instant transfer
James
- 11/24/2022 - 213.5.71.* -
bestchange
Well, I got my BTC. It's okay! It was pretty fast, to be honest. The technical support is amazing! I had have some issue with an exchange, but the ExLine support explained me everything through emails. They're kind and polite people. So, it looks like no cheating from them. Just do it!
James O.
- 11/2/2022 - 27.109.113.* -
bestchange
I'm very happy for the currency exchange service from "https://exline.pro" Their service is excellent, very attentive & Helpful. They really saved me the stress from sending payment to Russia online shops mostly now that there is sanctions in Russia which banned the use of normal Visa/Master card. I'm thankful and will still use their service again in the future.
Ivan
- 11/2/2022 - 90.151.80.* -
bestchange
QIWI to BTC very fast, would recommend!