Exchange CoinsBlack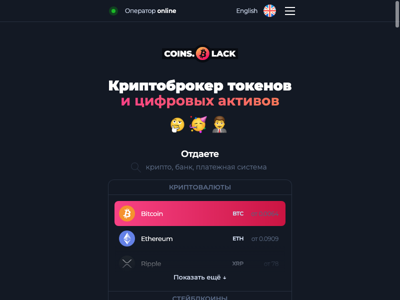 Age:
3 year, 4 month, 2 days
Country:
United Arab Emirates
Dima
- 2/16/2023 - 213.193.75.* -
bestchange
User
- 1/29/2023 - 198.16.78.* -
bestchange
So I opened this order successfully without any warnings or errors. Then I transferred the money correctly and the status of the order changed to "Payment received". An hour later, it still showed "Making the payment" status. I contacted support via drift chat and they said that an additional account was required for no reason. This was despite the fact that I had already provided all the necessary information for the transfer. Why have the order created if you don't have all the data anyway, right? I tried to explain it to them, but they refused to cooperate. After another hour, I got tired of it and asked for a refund. In response, they said, "Okay, we'll actually send you your money". "Finally," I thought, because there had never been a problem from my end anyway. But another hour passed, and after more than 3 hours I still didn't get shit. Only after 4 hours of messaging, waiting and writing a negative review did I eventually get my money.
Pie
- 1/29/2023 - 79.110.128.* -
bestchange
Used that platform many times already, really good and fast service.
User
- 1/28/2023 - 86.106.74.* -
bestchange
It doesn't show confirmations and a takes a little longer but eventually works
Svetlana
- 1/8/2023 - 46.123.252.* -
bestchange
Thank you for the creative solution of a non-standard problem.
Polosatiykit
- 12/28/2022 - 188.0.233.* -
bestchange
Very helpful operator is working in this exchanger. Transaction done without any problem.
Alexandr
- 12/9/2022 - 109.121.241.* -
bestchange
Very fast exchange. Paid to YooMoney wallet, received an international transfer to SEPA within 24 hours. As a cons - considerable conversion rate. Thanks for the service
Hisham Refaat
- 10/26/2022 - 196.157.5.* -
bestchange
Very quick exchange from usdt (trc20) to paysera Euro It won't be last deal with the site. Thanks a lot ?
Pie
- 10/26/2022 - 79.110.129.* -
bestchange
Fast and secure, I recommend working with that platform.
Hans & Gretha
- 10/26/2022 - 82.102.16.* -
bestchange
Top exchanger! Awesome support helps me solve my problem. Thanks a lot!