Exchange ChangeHero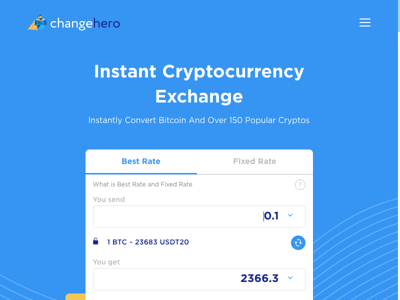 Age:
4 year, 11 month, 25 days
Victim
- 2/24/2023 - 146.70.54.* -
bestchange
[Issue has been successfully resolved by the exchange service's administration] [Obscene and abusive language was removed by the monitoring's administration] dont make exchange in this site
Joe
- 2/28/2023 - 76.188.134.* -
bestchange
Didn't get the thing with fixed rates, but support girl was really kind to explain. 10/10 for service and speed
Emmanuel
- 2/22/2023 - 201.17.103.* -
bestchange
Used the service for the first time. Received coins almost instantly, the site is convenient and pleasant to use, also pleased with the course
Andrew
- 2/28/2023 - 162.193.166.* -
bestchange
I was nervous at first but in 5 minutes everything was done. pretty good
Dilip
- 2/21/2023 - 24.20.234.* -
bestchange
Ah, finally an exchanger not asking to fill forms before actual process happens, hate wasting time and money doing it.recommend 101%
Olodar
- 2/19/2023 - 185.101.139.* -
bestchange
I sent coins with wrong network, but support solved my problem and completed order. Great experience! Thank you!
Kaddu
- 2/17/2023 - 85.105.39.* -
bestchange
I found ChangeHero to be a really great experience. I downloaded the app on my phone and logged in with my email and password. Then I selected the items I wanted to exchange and paid my shipping fee. Everything shipped within two days and it was easy to get a tracking number. I didn't realize how easy it was to get a tracking number from ChangeHero, I didn't even have to pay extra for it.
Fred
- 2/16/2023 - 76.97.36.* -
bestchange
Thanks Changehero for no logins and personal data, nice and simple. Spent like 12 minutes to create order n get Dogecoins without wasting any time on authorization procedures and stuff. appreciate it
Èãîðü
- 2/16/2023 - 176.105.200.* -
bestchange
The site has clear navigation. Don't force you to take extra steps. Lots of exchange options. The exchanger is multilingual.
Kirill
- 2/16/2023 - 87.117.61.* -
bestchange
I was trading CRO for DASH. I sent 600 crowns, but they were not credited to the exchanger, but they were debited. I sent 600 PRO from the account 0x06a2b4E79C99ba09D220146B5AEa103CcC799C54 to the account DASH XcXBi1fupUEZc6rLGWNpoPzCYeXv43ZiyT I ask you to return back 600 CRO or credit them to DASH I specified a new application number, because that application was deleted.