Exchange CryptoBarMen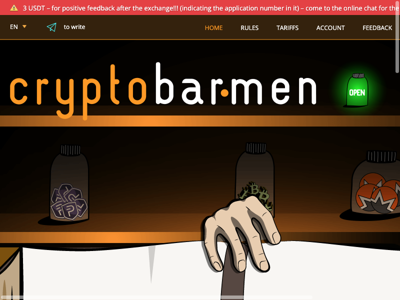 Age:
4 year, 5 month, 25 days
Reza
- 3/29/2022 - 94.204.56.* -
bestchange
Performed the transfer at high speed. Thankful
Forid
- 1/18/2022 - 196.149.63.* -
bestchange
Everything is fine, bitcoin was exchanged for usdt at a high rate and very quickly.
Lobster
- 2/22/2020 - 161.129.66.* -
bestchange
Another exchange made me happy even more. First I've made a mistake with my receiving account number. Support helped me in minutes and everything is in place. Looks like they use SegWit bitcoin accounts as sending transactions are super fast! A big plus for them.
Lobster
- 2/21/2020 - 161.129.66.* -
bestchange
The fastest exchange I have ever worked with!
Jackie
- 11/17/2019 - 97.64.122.* -
bestchange
It's a nice platform. Their Customer Service is always friendly. They helped me to solve the problems quickly.
Ivan
- 8/24/2019 - 93.77.151.* -
bestchange
Great exchange rates and great service. I originally submitted the wrong account number, but their Customer Service was able to correct it and within 5 minutes the money was in my account. Thanks a lot guys. Pleasure working with you!