Exchange BitokAi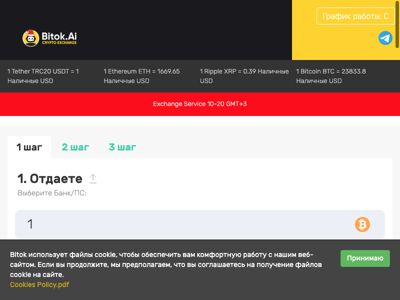 Age:
5 year, 11 month, 19 days
Country:
Объединенные Арабские Эмираты
Mariia
- 10/13/2022 - 123.231.84.* -
bestchange
Everything was fast and thanks to support for the help
Joseph Joster
- 8/2/2022 - 38.132.101.* -
bestchange
Hello, the exchanger is just wonderful, I personally really liked it. I wanted to exchange money from my Payeer wallet to another currency. Everything went quite quickly, I recommend this exchanger to everyone.
Alisher K
- 7/27/2022 - 37.215.49.* -
bestchange
This is perhaps the best cryptocurrency exchange platform. Transactions are fast, support is always ready to help if something is not clear
Andreas
- 7/19/2022 - 176.109.250.* -
bestchange
I needed to transfer USD to Skrill, the course suited me, the operation takes place within a certain time frame, verification can be requested.
Emily
- 7/15/2022 - 88.77.18.* -
bestchange
I really like this cryptocurrency exchange platform! The site is very user-friendly and understandable.
Fipllip
- 7/11/2022 - 212.8.253.* -
bestchange
Carried out the transfer of USDT to Payeer wallet.The course is acceptable, the average operation time is about thirty minutes.
Alex
- 7/8/2022 - 185.130.54.* -
bestchange
The best exchange service which I've been using for almost a year. Totally would recommend it.
Anna
- 7/5/2022 - 176.109.250.* -
bestchange
A good exchanger.The average operation time is thirty minutes, which suits me.The courses are acceptable, support is always there to help.
Alex
- 5/20/2022 - 78.162.41.* -
bestchange
BAD Exchange show low rates to be in the first positions on best change. When you go to the website you see a commission of more 7% This ridiculous.
Maham
- 5/20/2022 - 116.202.26.* -
bestchange
Good response Live Chat 5 TO 10 Mints Transfer time Customer service is helpful always.