Exchange Quickex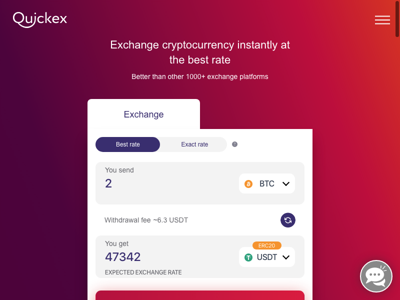 Age:
5 year, 3 month, 6 days
Fenix
- 3/10/2023 - 185.241.208.* -
bestchange
The exchange was made within 30 minutes, with recalculation in my favor, I recommend.
Jan
- 3/10/2023 - 5.45.98.* -
bestchange
Great exchanger! The operation was carried out quickly and without problems! Thank you Nice to work.
Fred
- 3/10/2023 - 212.192.246.* -
bestchange
I love this site so much, the friendly support and the quick proceedings. Thank you!
Steve
- 3/10/2023 - 192.42.116.* -
bestchange
I recommend to all. The transaction lasted no more than 5 minutes. The course for many couples is very good.
Karistam
- 3/10/2023 - 51.159.220.* -
bestchange
Inconvenient exchanger, deceives, there is a huge commission for the exchange and the exchange rate is ridiculously low (you just lose money on them). Be smarter and more cunning, on other exchangers the rate is more profitable and higher, in comparison with this exchangers. I convinced myself.
Mike
- 3/10/2023 - 58.8.155.* -
bestchange
My order 57061245-AC26-4333-B961-33078FEA0BDF, i sent 1 btc for usdt. didnt receive usdt or refund as usdt. i been waiting for more than 6 hours. https://www.blockchain.com/explorer/transactions/btc/dbb3a295897b7657de3dd1d8f45fa2cb3d3c8bd4a9fc4f9e06f3ed80be7723ac
Oliver
- 3/10/2023 - 104.244.74.* -
bestchange
Fully satisfied by the exchanger. Fast transaction and nice exchange rate
Peter
- 3/10/2023 - 185.220.101.* -
bestchange
Very cool exchange. The site is convenient, the exchange is fast. I don't know about managers, I didn't have to contact, because everything works anyway.
Kate
- 3/10/2023 - 45.151.167.* -
bestchange
Not bad changer, without any problem and delays. Support help me check my transaction and in all quickly responds.
Bill
- 11/27/2022 - 185.100.85.* -
bestchange
Outstanding communication and professionalism. I made my first transfers from BTC to XMR.Very good, fast and reliable. Still use that changer in next.