Exchange 2rbina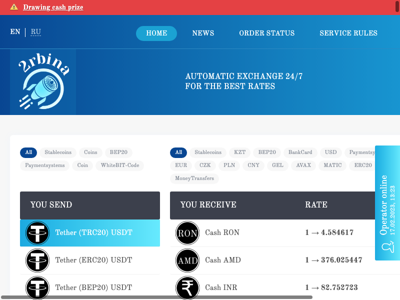 Age:
4 year, 7 month, 25 days
Zenons
- 2/23/2023 - 176.59.47.* -
bestchange
[Issue has been fully resolved] In rules said maximum waiting time 4 hours, I waiting 14 hours, support every time said me waiting
Andrii
- 2/21/2023 - 193.106.59.* -
bestchange
I was trying to exchange btc to hrn to my bank card. Got 33hrn instead of 10k! no info from exchange. I had to beg for my money. They said transfer was denied for my cards (i provided 2. And how 33 hrn came through?). Asked for refund,they proposed it in usdt. Then the chain was wrong, then i sent 3 or 4 emails and they said there was no email from me. Ok, so it only took 9(!!!) hours and i got usdt so i have to initiate another exchange to get money to my card. They also shorted me about 7 dollars. This service is a joke. Avoid at all costs!!!
Antonio
- 2/17/2023 - 89.187.163.* -
bestchange
This so LONG. next time I will choose another exchanger. exchange i 20 dollard, and it is still happening...
Elena
- 1/23/2023 - 82.118.29.* -
bestchange
Didn't get payment for 3 hours already and the support doesn't give any estimates.
Roman
- 1/23/2023 - 178.32.73.* -
bestchange
Payment not received. The exchanger is very long. I do not recommend. Didn't get paid
Jaydensmit
- 1/26/2023 - 185.220.100.* -
bestchange
Sold 1100$ USD BTC for bank transfer without problems fast and effecient service, and much thanks to Àíàñòàñèÿ for speeding up the process. good service
Zoia
- 3/16/2023 - 88.155.27.* -
bestchange
Excellent service, they work quickly, I also want to thank the operator Anastasia for her help in the exchange.
Liudmyla
- 3/15/2023 - 37.10.236.* -
bestchange
Excellent...it took 5 minutes. Definitely recommend
Pascal
- 3/19/2023 - 94.51.219.* -
bestchange
Thanks for the great exchange!
Ahmed
- 3/15/2023 - 188.172.110.* -
bestchange
After I paid Application Status: Autopay API error