Exchange TetChange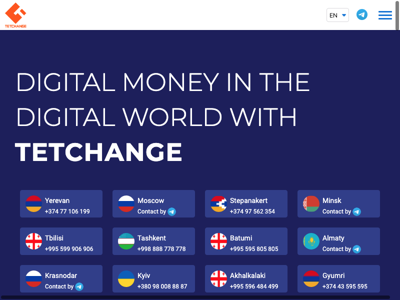 Age:
5 year, 0 month, 3 days
Shura
- 6/11/2022 - 98.159.226.* -
bestchange
I successfully exchanged from usdt to usd within 5-10 minutes! Excellent! Very good exchanger. Recommend for sure
Laszlo
- 5/13/2022 - 146.70.12.* -
bestchange
It is a nice way to get your money with trusted exchanger. Reliable fast service. Thank you
Jirayr
- 5/7/2022 - 193.176.84.* -
bestchange
I haven't seen such a best platform like this, great support when you have questions, exchange rates also very good. Highly recommended, they really work very good.
Kamlebol
- 5/5/2022 - 37.59.105.* -
bestchange
It is not a very convenient exchanger, it takes a long time to pay out, in the chat they say one thing but in fact another. There is a not quite correct operator in the chat who is also trying to be rude. I do not advise.
Gor
- 5/5/2022 - 156.146.55.* -
bestchange
Very convenient and simple service. The staff is also very good. They offer good commissions, it's very effective to work with them! Thank You
Smbat
- 4/19/2022 - 156.146.55.* -
bestchange
The best as always! Thank you for great service. Regards
Andreus
- 4/13/2022 - 185.51.134.* -
bestchange
Awesome Exchanger. It's right place for exchange crypto.
Maks
- 4/7/2022 - 62.133.47.* -
bestchange
Helpful and hopeful as always. Great work. Great service for everybody who interested in crypto. Highly recommend
Zevs
- 4/2/2022 - 156.146.55.* -
bestchange
Great, fast, honest company with great staff. Thank you
Robert
- 3/31/2022 - 146.70.52.* -
bestchange
Reliable Top Exchange service. Changed BTC into cash very fast and beneficial. Thank you