Exchange Transfer24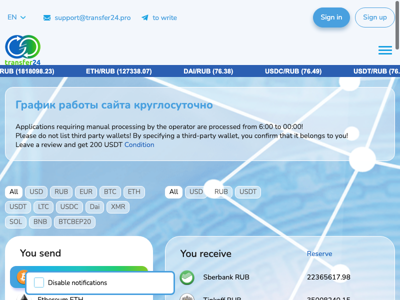 Age:
6 year, 9 month, 13 days
Ilia
- 3/4/2023 - 185.76.104.* -
bestchange
Because of gas fees issues I have sent my money after the order has already expired. Nonetheless, the exchanger was able to find my transaction and finish the order. Great customer service!
Justin
- 3/4/2023 - 193.109.85.* -
bestchange
This exchanger was fast and helpful. Will definitely use again. So easy.
Red
- 2/13/2023 - 202.58.197.* -
bestchange
Very fast. Reasonable rates.
Mike
- 1/29/2023 - 62.4.57.* -
bestchange
Exchange USDC to Rub tinkoff by card to card transfer.
Ramin
- 1/29/2023 - 178.131.192.* -
bestchange
Hello. My order number is 212603. I ordered yesterday and transferred Bitcoin at the same time, but after more than 12 hours, I still did not receive Perfect Money in my account, if my order status was changed to completed. They do not reply to my emails and their online chat does not work at all and is just a show. They seem to be scammers. ========== Order ID 212603 Currency exchange The order is completed Your application is complete. Thank you for using the services of our service. Please leave review review of the work of our service! Send: 0.001333 Bitcoin BTC , From account: bc1qf6sy3lqvh62kfx9sx2v9xx6ne842n63umn2wjk Receive: 40.1759 PerfectMoney USD , Into account: U1288730
Fomin
- 9/16/2022 - 145.255.0.* -
bestchange
Exchange BTC to Tinkoff QR Rub, worked just fine! Will use again soon!
Alimul
- 8/2/2022 - 193.37.32.* -
bestchange
Https://transfer24.pro/en/hst_87ElvJ5jlqln8QYuKuIM5aDdSYf8xiCXKfa/ They deleted the order without processing it. It was perfectmoney to btc exchange and funds deducted from my pm wallet but I haven't received btc yet. I contacted support but have not received any response from them for a long time.
Michal K
- 6/7/2022 - 85.190.240.* -
bestchange
All ok, takes app. 5 min, so recommended for all
Neven Zec
- 6/7/2022 - 109.165.143.* -
bestchange
Very fast PM to BTC with a very good exchange rate. Thank you!
Sudeep
- 6/7/2022 - 103.198.99.* -
bestchange
This is one of the great website for electronic currency exchange and it does show best exchange rates.