Exchange 24PayBank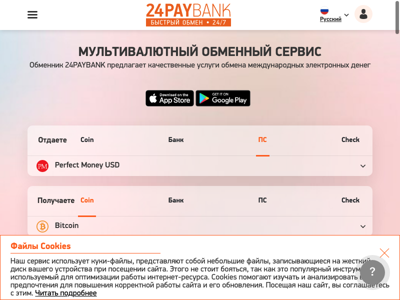 Age:
7 year, 2 month, 2 days
Random_Springbok
- 2/23/2023 - 185.220.100.* -
bestchange
I sent XMR in order to receive TONs, but after 8/10 confirmations my order have been marked as deleted (because of they "did not receive payment"). Then, after talking with support, email and a little more than an hour, they confirmed transaction and manually sent my TONs to me, so I think it is OK, but can be a better)
Radar Xu
- 2/17/2023 - 218.80.125.* -
bestchange
Don't use the exchanger to exchange USDT! I request a USDT exchange on 7/22/2022, but after 13 days, I still don't receive the money. They tell me it need 5 to 7 working days, now 7 working days hava passed. I come here for help.
Alex
- 2/17/2023 - 185.227.110.* -
bestchange
Vladyslav
- 2/17/2023 - 46.166.50.* -
bestchange
Good exchanger. Finished in 15mins
Steel
- 2/17/2023 - 82.215.111.* -
bestchange
They good but not fast as i guess. it took almost 40 minute waiting then i contacted and they resend .
Andrei
- 2/16/2023 - 89.149.87.* -
bestchange
This exchanger stated that they convert USDT into VISA MDL, but in fact they send VISA RUB. In Moldova convertion of RUB into MDL takes (3!) days and means additional comissions! Exchanger should indicate that they are sending not the currency that they show on the calc. Now I have to ask somebody to borrow money, because I needed the funds right now. Thanks a lot!
User
- 11/20/2022 - 185.96.210.* -
bestchange
If you like to lose your nerves go for it! You have to pay them and wait...then send a screenshot of the transaction to live support and wait again...and wait...
He
- 8/2/2022 - 119.28.143.* -
bestchange
I waited for 3 days and didn't receive my money. I asked the customer service to urge the bank to reject me directly. The service was super poor, and he just gave him rubbish.
John
- 8/3/2022 - 202.43.15.* -
bestchange
They could not accept my Tongan VISA card. Knowing this in advance would be good since fees were lost. Support was a bit slow. Refund took a couple of hours before processed.
Talal
- 8/3/2022 - 203.175.73.* -
bestchange
Best exchange, fast service. Be it big amount or small they take care of the exchange really well