Exchange Xchange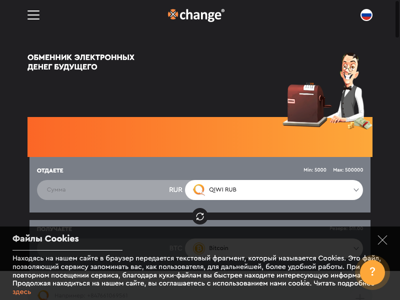 Age:
10 year, 0 month, 19 days
Peter
- 10/21/2022 - 195.78.54.* -
bestchange
Bitcoin -> Qiwi Not very fast, they require 3 bitcoin network confirmations, but in general the exchange is without problems.
Patel
- 9/25/2022 - 199.101.192.* -
bestchange
Fast, simple and very trustworthy!! Has large reserves enough for large transactions. 10/10 will exchange again. My only suggestion is to improve the English translation a bit.
Anthony
- 9/1/2022 - 94.208.203.* -
bestchange
Exchanged TON to USDT. It's quick and simple. Recommend ?
Messiah
- 12/28/2021 - 143.92.158.* -
bestchange
I will explain my experience to this exchange site. It took me a day to successfully verify my account and then I tried to pay four times my valid VISA card but I couldn't due to a problem with their payment system I wrote to the chat support several times and told me at first that I have to understand that the payment service It takes a long time and thenShe asked me to stay calm and I was until the end and the payment problem recurred and she told me they had a little problem and that the payments were ahead of orders ok and when I did my last exchange she told me I had to exchange my card even though it was a valid card ok advice guys in case you don't want losing a lot ofYour time is useless get away as fast as you can from this *** exchange site.
CashBB_com
- 11/2/2021 - 116.203.108.* -
bestchange
$xxx from PerfectMoney to Solana. Exchanged OK. Good support. Some phrases was confusing, like they sent status in non english, or status Deleted even they monitored the payment and later automatically completed such order.
Freddy Krueger
- 10/5/2021 - 80.216.21.* -
bestchange
First time exchanging and I was guided by the helpful Online Chat staff. XMR-ETH.
Naale
- 7/20/2021 - 43.128.49.* -
bestchange
Super fast exchange service : https://tronscan.org/#/transaction/aa0495ec9d6ace41142b30706e4babb188c95892f52db5c98d9c9c5573b6b34e Thank you
Goose
- 5/9/2021 - 67.250.73.* -
bestchange
Good and fast exchange, very easy and will do my exchanges here from now on. Thx
Monique
- 5/28/2020 - 51.158.111.* -
bestchange
Thanks for your work. It was right on time!
Malik
- 4/1/2020 - 176.59.96.* -
bestchange
Thanks! Made the exchange for the first time, everything was clearly explained,and most importantly the funds arrived instatly.