Exchange MagneticExchange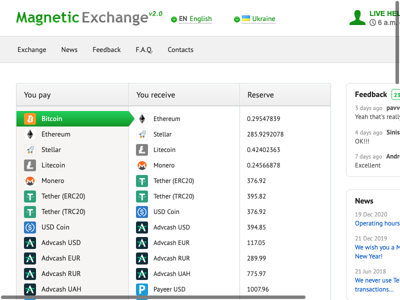 Age:
11 year, 4 month, 13 days
Ali
- 9/22/2021 - 185.106.29.* -
bestchange
John
- 4/16/2021 - 202.43.15.* -
bestchange
They didn't accept Mastercard. Knowing this before sending would save me some money in lost fees. Support was OK and refund quick.
Arman
- 3/4/2021 - 178.88.140.* -
bestchange
Sent Monero and got fiat on Kaspi Bank. Perfect!
Sujith Sanjeewa Samaranayake
- 5/28/2020 - 112.134.37.* -
bestchange
Wooow what an awesome exchanger got the money within seconds
Rahman Mammadov
- 4/21/2020 - 5.197.210.* -
bestchange
First time using good exchange thank you
Malik Baziad Ali
- 1/18/2020 - 119.160.65.* -
bestchange
One of the best exchanger fully automatic and fast received i donot know why people comment bad about this exchanger but for me its good and fast
Shafik Rahman
- 12/15/2019 - 202.134.13.* -
bestchange
Not a good exchange site, i will suggest you guys to exchange your fund via other changer. but don't use this site. Overall they charges huge fees. for 27 usd pm to btc they charges total 4.45 usd. what a rubbish exchange site this is! Blockchain transaction fees hight 0.0002 BTC. Never use this stupid site.
User
- 12/15/2019 - 109.70.100.* -
bestchange
@bestchange, please update info. BTC to XMR is not automatic. After 3 confirmations, status of my order changed to "manager action pending". And "manager" is offline, so i will need to wait until tomorrow. There rate is not the best, but I have used them only because I needed a small amount exchanged to Monero quickly.
Ben
- 11/26/2019 - 109.190.239.* -
bestchange
Very bad service.......... I expected on processing the application because exmo on maintenance, but you just deleted my order without any comments - activated/not activated my code, I exchanged in another site with higher reputation. advice for users: if you need just fast make exchange your digital currency, choose another site and do not waste your time.
User
- 11/27/2019 - 5.12.247.* -
bestchange